The Story
Three people died this week during a shooting incident while on line at McDonald's drive-through in southern Finland.  Although McDonald's may not have liability for the situation -- the shooting resulted from an argument between drivers -- this would be considered a crisis situation for the company.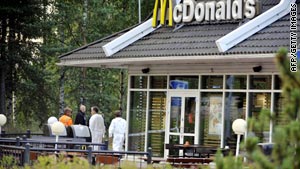 Read the full story.
Discussion Starters
What is the local McDonald's responsibility during an incident like this?  How should management respond?
Who are McDonald's internal and external consistuencies?  How should McDonald's communicate with each after this incident?
What, if any, action should McDonald's Corporate (in the U.S.) take?  How do you see the Finnish store interacting with McDonald's headquarters during this situation?
Assignment Ideas
Imagine you're the store manager of this McDonald's.  Write an email to your manager (probably a regional director for all McDonald's stores in Finland) describing what happened and your response.  Consider that your manager may forward this on to the Corporate office.
As the store manager, write an email to your employees.  You'll want to explain what happened, reinforce emergency procedures, and assure employees of store safety.
As the store manager, imagine that you and Fagerholm, the detective inspector, are planning a news conference about the incident.  What will you say to explain what happened and reassure the public that your McDonald's is safe?  Write a script and deliver the news conference.